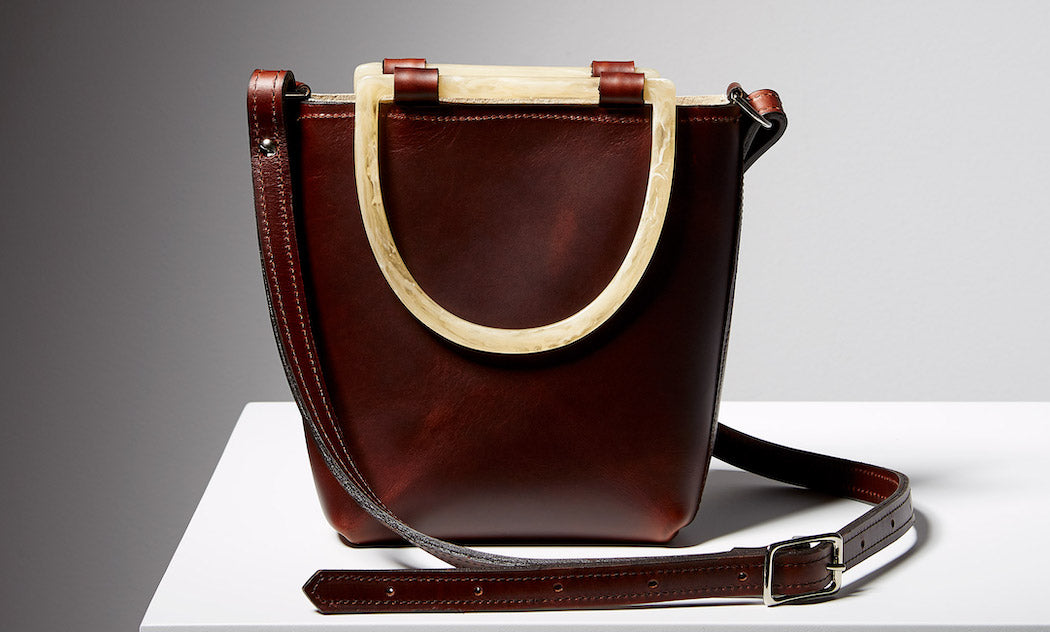 There's a lot to love about fall, and it doesn't all have to involve pumpkin spice. Here are a few things Basenotes HQ is loving and coveting as we head into this transitional season.
Sonya Lee Yuliana Bag Simons Fabrique 1840
Quebec-based department store Simons has always been a purveyor of fashionable goods, but its online shop-in-shop Fabrique 1840 is extra special. In this part of the Simons site, browse a selection of curated Canadian brands, all with a focus on craftsmanship and artistry. We're particularly in love with the Faux Horn Quarter Yuliana Bag by Vancouver-based leather bag brand Sonya Lee. Ethically- and sustainably-made from oil-tanned leather, this bag works as both a statement piece and an everyday purse. The rich red gives it a certain sophistication, while the ivory acrylic handles add a touch of playfulness.
Mifa Eucalyptus Coco Body Wash
Lather up with the invigorating, natural, and organic Eucalyptus Coco Body Wash from Vancouver brand Mifa. This purifying, sustainable product truly smells beautiful, and leaves the skin feeling properly cleansed. Pair it with a few drops of vitruvi's Eucalyptus Essential Oil on the bottom of your shower and you've got yourself an at-home spa experience.

Narrative Non-Fiction 2017 Red Blend
Autumn is the perfect time to cozy up with a glass of red wine. Hailing from the Okanagan is Narrative, a sub-label of trailblazing organic winery Okanagan Crush Pad. Ready for the taking is Narrative's Non-Fiction 2017, a blend of cabernet franc and cabernet sauvignon. With grapes sourced from an organic vineyard in Osoyoos, this vintage starts soft with wild herbs and spices, then rolls out into round, juicy fruits like raspberry and cherry. It feels deliciously dry on the mouth, yet it goes down smooth—and will surely have you reaching for a second pour.
La Prairie Skin Caviar Eye Lift
Iconic luxury Swiss skincare brand La Prairie has been harnessing the lifting and anti-aging powers of caviar for years, and its latest product is no exception. Skin Caviar Eye Lift works to tighten the skin around the eyes, reducing the appearance of bags and crow's feet, defining eyebrows, and firming the upper lids. The soft perfumed scent makes this product a joy to use, and if it's anything like the rest of La Prairie's caviar line, it is sure to do wonders for those lucky enough to experience it.
"Antoni in the Kitchen"
Beloved Queer Eye personality Antoni Porowski has charmed his way into the hearts of Netflix viewers thanks to his passion for food (and his adorable dimples). This Canadian foodie doesn't just talk the talk, either—now he's bringing his favourite recipes into our homes in a new way with Antoni in the Kitchen. Alongside recipes for Polish Hangover Soup and Salty Lemon Squares are tidbits about Porowski's life, plus plenty of beautiful food photographs.
Broadway Across Canada's "Rent"
The movie Rent captured the souls of so many music-lovers when it was released in 2005, but this story actually dates back to the early 1990s, when an unknown composer named Jonathan Larson launched the theatre production of the same name. Following a year in the lives of starving artists living in New York, Rent is a heartbreaking and uplifting story that sheds light on the AIDS epidemic. And Broadway Across Canada has brought the show to Vancouver, running now until Sept. 22. The high-energy cast does an incredible job of keeping up with the marathon-like show, which features almost no dialogue (everything is communicated in song). It's fast-paced and full of heart, and will continue bringing crowds to their feet the way it did on opening night.
Tkees Liners
Okay, so autumn might not exactly be flip-flop season, but these leather versions from Toronto brand Tkees are too cute to ignore. Plus, we all need easy footwear to slip on when we're running around the corner for some coffee beans or heading to the basement to do the laundry, right? Made in Brazil of cowhide leather, these handcrafted Liners are sleek, chic, and comfortable. Time to plan that getaway to Jamaica.
Summer might be ending, but fall is just beginning—and with it comes new adventures to be had.