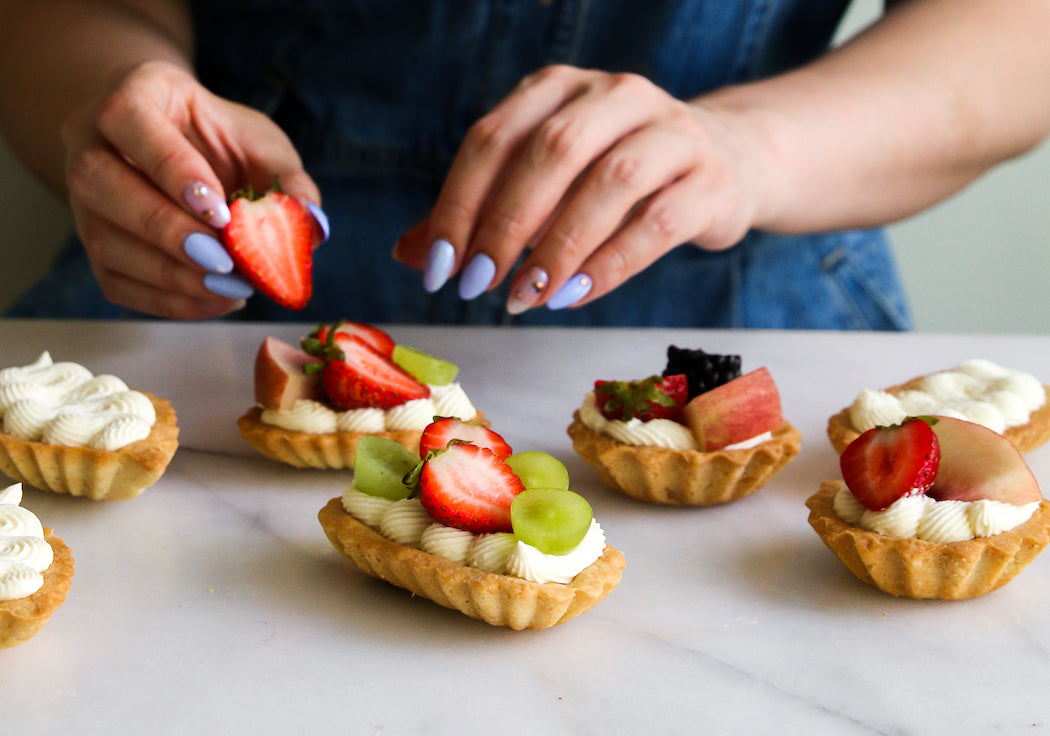 Growing up in a Chinese family, food was often a sign of love for me. For family meals or special celebrations, there would be plates or bowls filled to the brim with seafood, vegetables, meat, and soups. I recall fondly how my grandmother would tell me to "eat, eat, eat" as soon as I came home from school—often with my favorite hand-wrapped sweet dumplings at the ready. In many Asian cultures, cooking food is a very important and almost sacred skill, as it not only brings people together, but also shows the depth of their affections in an unspoken way.
To celebrate AAPI Heritage Month, six talented Vancouver chefs share some of their favorite recipes—from duck noodles and salad rolls to fruit-based desserts. Whether you're already familiar with the flavors of Asian cuisine or this is your first introduction to these ingredients and dishes, let this be only the beginning of your Asian cooking and baking (and eating) adventures.
---
Duck breast and king oyster mushrooms with wheat noodles
By: Jenny Hui, executive chef at The Lazy Gourmet. Photo by Mark Yuen.
Duck is a popular protein in Chinese culture, especially for celebrations; you may often find BBQ duck on restaurant menus. I love incorporating duck into my noodle dishes because it adds that extra flavor. This recipe includes my favorite mushrooms (king oyster) and tamarind sauce, which really packs a punch. I used wheat noodles instead of traditional rice noodles for something different; then you get that extra umami and heat power by using a wok. This recipe is great for sharing with family and friends.
Ingredients
1 piece duck breast

1 pound king oyster mushrooms

3 packages wheat noodles

3 stalks green onion

1/4 cup tamarind sauce (see below)

2 teaspoons truffle oil


Tamarind sauce

Whisk together: 2 teaspoons tamarind paste; 2 teaspoons soy; 1/4 cup hoisin sauce; and 2 teaspoons dark soy


Instructions
Over medium heat, heat a frying pan.

Place the duck with the skin side down into the hot pan. Cook until the skin is crispy.

Turn the duck over and continue cooking.

Let it cool slightly, then cut into thin strips and set aside.

Cut the mushrooms into strips. Set aside.

Cook the noodles according to the package. Rinse with water and toss with oil.

In a wok, heat three teaspoons of oil. Add the mushrooms and cook until tender.

Add the noodles and duck. Stir-fry quickly so that the noodles do not stick. Add more oil if needed.

Season with salt and pepper.

Add the tamarind sauce and green onions.

Place on a serving plate.

Swirl in truffle oil to finish.


~
Classic kimchi jeon
By: Taeyoung Chang, content producer at Coho Collective. Photo by Rich Won.
This kimchi jeon is special to me because it was the perfect introduction to learning more about Korean food. There are several variations of jeon (or, more generally speaking, ingredients cooked in a batter) throughout Korean culture. These range from modern bar snacks to funeral offerings and even royal banquet meals.
This is a great base recipe: you can use rendered pork fat instead of oil for additional flavor; crack an egg before you flip for an extra layer of complexity; and add more gochugaru for some spice, or fish sauce for some funk. From mixing the batter with my mom when I was a kid, to living off of this in college and now writing about it for magazines, this recipe holds a special place in my heart—because regardless of the occasion or my age, it's something I will always crave.
Ingredients
1 cup kimchi, roughly chopped

1-2 scallions, thinly sliced

¼ onion, thinly diced

2-3 tablespoons oil

1 cup flour

2-3 tablespoons kimchi ferment juice

3/4 cup cold water


Instructions
Cut the green onions to a similar length as the onion. Then cut them lengthwise in half, or depending on the size, into quarters.

Thinly slice the onions to a similar thickness as the green onions.

Kimchi will stain everything, so place it in a bowl and cut it using scissors to avoid extra clean-up. Combine it with your remaining ingredients.

In the same bowl, combine all of your batter ingredients; it should be thick like pancake batter.

In a non-stick pan, add enough oil to coat the bottom, and heat until slightly smoking.

Add enough batter to create a 0.25-inch-thick "pancake" and reduce your heat to medium.

Cook for three to four minutes on each side. Flip back and forth until the interior is cooked.

Plate and enjoy.


~
Mango sago panna cotta
By: Nikki Tam, head pastry chef at Minami Restaurant. Photo by Maria Gonzalez.
Growing up in Hong Kong, there are two desserts I've always loved—and they are actually very similar in flavor. The first is mango sago, which is a sweet soup mixture of mango puree with sago and pomelo; the second is mango pudding, which is often served with evaporated milk. Both of these desserts are staples in Hong Kong; you can find them at dessert shops and also at Chinese restaurants. I remember the mango pudding being the item I would most look forward to at the end of a meal as a child. And nowadays whenever I get to have one, it reminds me of home. Here is my take on a crossover of these two desserts.
Mango panna cotta
Ingredients
1 cup milk

1 cup cream

⅓ cup sugar

1 tablespoon powdered gelatin

4 tablespoons cold water

¾ cup mango puree

1 fresh mango, diced

1 pomelo, diced, for garnish


Instructions
Sprinkle the powdered gelatin in cold water and let it dissolve.

Combine the milk, cream, sugar, and mango puree in a pot and heat until simmering.

Take the pot off the heat immediately and add the dissolved powdered gelatin. Mix thoroughly. Let the mixture cool to 30 degrees Celsius. 

Fill six-ounce glasses one-third full with the mixture. Leave them (and any remaining mixture) in the fridge to set.


Coconut tapioca
Ingredients
5 tablespoons tapioca

2 tablespoons sugar

2 tablespoons coconut milk


Instructions
Mix the coconut milk and sugar in a medium bowl.

Boil a small pot of water. Add the tapioca to the water once it starts boiling.

Cook the tapioca until it is 90 percent translucent, then pour the mixture over a sieve to discard the water.

Combine the cooked tapioca with the coconut milk and sugar mixture.

Set aside and allow it to slightly cool.


Coconut crumble
Ingredients
3 tablespoons shredded coconut

⅓ cup all-purpose flour

3 tablespoons brown sugar

3 tablespoons butter, softened


Instructions
Preheat the oven to 350 degrees Fahrenheit (175 degrees Celsius).

Toast the shredded coconut for three to four minutes, or until golden. Let cool.

Combine the cooled toasted shredded coconut, flour, and brown sugar in a mixer with a paddle attachment. Mix until well combined.

Add the softened butter and continue mixing until a crumbly texture is achieved.

Spread the crumble evenly on a baking tray lined with parchment and bake for eight to 10 minutes, or until golden.

Set aside and cool.


Final assembly
Take the mango panna cotta out from the fridge.

Add a layer of diced fresh mango and then a layer of coconut tapioca onto the set mango panna cotta. Make sure the coconut tapioca is spread evenly and seals the layer below, as this acts as a barrier for the next layer.

Fill another layer of mango panna cotta on top and leave it in the fridge to set.

Put the coconut crumble and pomelo on top just before serving.


~
Bò bía fresh rolls
By: Amélie Thùy Nguyễn, cofounder of Anh and Chi. Photo by Trudy Tran.
I love this recipe for so many reasons: how simple and inclusive the process is to prepare and enjoy, how it brings back memories of traveling with my parents to their hometown, and how I must learn (to then pass on) how to make the essential sauce that completes the dish. Recreating recipes like this one is a way to carry on our family's legacy—our Asian heritage.
Bò bía is a salad roll containing a pork sausage called lạp xưởng (a common ingredient throughout many Asian cuisines). It is sold alongside many other fun and exciting street-food dishes in Saigon—usually from a cart on wheels along the beach, in city parks, and on bustling streets both day and night. Using simple everyday ingredients like egg, carrots, lettuce, and rice paper, you can create a taste of Vietnam from your very own kitchen.
Ingredients
*found at most Asian supermarkets
4 eggs 

½ pack lạp xưởng sausages (AKA lap cheong)*

1 pack 22-centimeter Vietnamese rice paper*

1 green leaf lettuce head

4 sprigs Asian basil*

2 sprigs green onion

2 carrots

2 jicama*

1 tablespoon vegetable oil

1 tablespoon water

Salt to taste

Sugar to taste

2 bird's eye chilis or Sriracha (optional)*

8 ounces

Anh and Chi Mẹ's Artisan Peanut Sauce

(or see alternative dipping sauce recipe below)


Instructions
In a large pot, bring two to three liters of water to a boil. Add the sausages and cook on medium-high heat for 20 minutes. (In the meantime, move on to step two.) Once ready, remove the sausages from the pot and slice them into thin pieces lengthwise. Set aside.

Wash and dry the lettuce and basil. Add it to a communal platter and set aside for step five. Then wash, peel, and finely julienne the carrots and jicama; also wash the green onion, and using only the white bottom part, slice finely. Set aside for step three.

Bring a large pan to medium-high heat, and add the oil and green onion. Stir until it is light golden. Add the carrot and stir-fry for two minutes. Add the jicama, water, and a pinch of salt and sugar, and stir-fry for another three minutes. Then transfer it to a bowl and set aside.

Take the yolks of all four eggs and the whites of only two eggs and beat them together; add a pinch of salt to taste. In the same frying pan and on medium heat, pour a thin crepe-like layer of the egg mixture to cook for about one or two minutes. Flip onto a round plate and repeat until all of the egg is cooked. Slice the egg into one-by-five-inch strips and set aside.

Set and style your dinner table with all the ingredients from steps one through four onto a communal platter, also adding a communal bowl of hot water, individual plates, and ramekins.

Warm up Mẹ's Artisan Peanut Sauce and then pour it into ramekins; top with finely chopped bird's eye chili or a drizzle of Sriracha (optional). Don't have our bottled sauce? No worries: we have included a quick and easy alternative dipping sauce recipe below.

Hydrate the rice paper by quickly rotating all sides of the disk in the hot bowl of water, then transfer it to your plate. Add a little bit of everything, starting with the egg and sausage, then layering on top with the carrot and jicama, then finally the basil and lettuce. Holding the end of the rice paper closest to you, fold it over the ingredients, and continue to roll tightly away from you. Dip it in the sauce and eat up.


Dipping sauce
Ingredients
30 milliliters vegetable oil

2 garlic cloves, minced

300 milliliters hoisin sauce

15 milliliters water


Instructions
In a saucepan on medium-high heat, combine the oil and minced garlic. Stir occasionally, until the garlic is slightly golden brown.

Slowly add the hoisin sauce and water. Bring the mixture to a boil.

Remove from heat and transfer to a ramekin or small bowl.

Garnish with chili or Sriracha as desired.


~
Jasmine fruit tartlets
By: Amy Ho, founder of Constellation Inspiration and author of "Blooms and Baking." Photo by Amy Ho.
These tartlets are inspired by my favorite after-school treat that I ate growing up: mini fruit tartlets from my local Chinese bakery. They consisted of fresh fruit, custard, and a buttery tart crust. I still buy them from time to time, but I also like making my grown-up version. The base of these tarts is a pâte sablée, a crisp and cookie-like crust that crumbles a bit but is far from dry. It is filled with a delicate whipped white chocolate ganache infused with jasmine green tea, and then topped with fresh fruit. I like to use whatever fruit is in season, but strawberries and peaches will always be my preference.
Ingredients
Whipped jasmine green tea ganache
2/3 cup white chocolate, coarsely chopped

1 cup heavy cream

5 bags jasmine green tea

½ teaspoon salt


Pâte sablée
9 tablespoons unsalted butter, at room temperature, plus more as needed

1/3 cup powdered sugar

1 large egg yolk

1¼ cups all-purpose flour

½ teaspoon salt


Garnish
Assorted fresh fruit, as desired


Instructions
Make the whipped jasmine green tea ganache. Start by placing the white chocolate into a medium heat-proof bowl. Then, in a small pot over medium heat, bring the heavy cream to a boil. Remove the pot from the heat and place the bags of jasmine green tea in the cream. Place a lid on the pot and allow the tea to steep in the cream for 20 minutes. Pour the cream over the chocolate and let the mixture sit for one minute. Add the salt and whisk the chocolate mixture until the chocolate has thoroughly melted and is combined with the cream. Cover the bowl with plastic wrap and set it in the refrigerator to chill for at least four hours.

Make the pâte sablée. In the bowl of a stand mixer fitted with a paddle attachment, beat together the butter and powdered sugar at medium speed until they are creamy—about one minute. Beat in the egg yolk and mix until the ingredients are fully combined. With the mixer on low speed, beat in the flour and salt, just until the dough comes together and there is no more visible flour—about one minute. Be careful not to overmix the dough.

Grease 10 to 12 mini tart pans with the additional butter. Press about two tablespoons of dough into each tart pan, making sure it is evenly distributed. Using a fork, prick the bottoms of the tart crusts to prevent the bottoms from puffing up during baking. Place the tart pans on a small baking sheet. Loosely wrap the baking sheet in plastic and chill the tart crusts in the refrigerator for 30 minutes.

Preheat the oven to 350 degrees Fahrenheit (177 degrees Celsius). Bake the tart crusts for 14 to 16 minutes, until the crusts are golden. Remove the tart crusts from the oven and let them cool completely on a wire rack.

Once the tart crusts have cooled and the ganache is chilled, transfer the ganache to the bowl of a stand mixer fitted with a whisk attachment. Whisk the ganache on high speed for two to three minutes, until it is fluffy. Transfer the whipped ganache to a piping bag fitted with a large round pastry tip and pipe it into the tart crusts. Garnish the tartlets with fruit.


~
Pork vindaloo with poe bread
By: Tushar Tondvalkar, chef and founder of The Indian Pantry.
I learned this recipe from very close friends of my mom. Growing up in Mumbai, I had many Goan friends, and pork vindaloo is the most popular dish in Goan Catholic houses. This spicy, sweet, and sour recipe of pork vindaloo takes me back to memories of spending time with my Goan friends.
Ingredients
1.5 pounds St. Louis-style ribs 

2 medium white onions, finely diced

4 tablespoons olive oil

5 tablespoons garlic, finely chopped 

3 tablespoons ginger, finely chopped 

2 tablespoons

The Indian Pantry Vindaloo masala

(or more as desired)

4 tablespoons white vinegar

1 teaspoon red chili powder

1 teaspoon cane sugar

1 cup water 

Cilantro, to garnish

Salt, to taste 


Instructions
Marinate the ribs with the vindaloo masala, white vinegar, sugar, red chili powder, and a touch of salt for 30 minutes.

In a medium crock pot, heat the oil on medium heat. Add the onion and saute until it is translucent.

Add the chopped ginger and garlic and saute for another three to four minutes.

Add the marinated ribs and saute for two minutes. Then add water and let it slow cook on low-medium heat for about 45 minutes, or until the pork is tender.

Garnish with cilantro and enjoy with poe bread.


Poe bread
Ingredients
1.5 cups whole wheat

1 cup all-purpose flour

2 teaspoons yeast

1 teaspoon salt

1 tablespoon sugar

1 cup water

2 teaspoons oil

5 tablespoons wheat bran


Instructions
Activate the yeast with the warm water and sugar.

Mix all the ingredients, except for the wheat bran, and make a dough.

Proof the dough for two hours, or until it's doubled in size.

Make six equal portions of the dough. Roll it round to a half-inch of thickness; use wheat flour if needed, and sprinkle wheat bran on top.

Proof again for 45 minutes.

Preheat the oven to 400 degrees Fahrenheit.

Bake the poe for eight to 10 minutes.

Serve with your pork vindaloo.


~ 
These are just a sampling of the dishes and flavors that make up Asian cuisine. But they are a great (and tasty) place to begin.