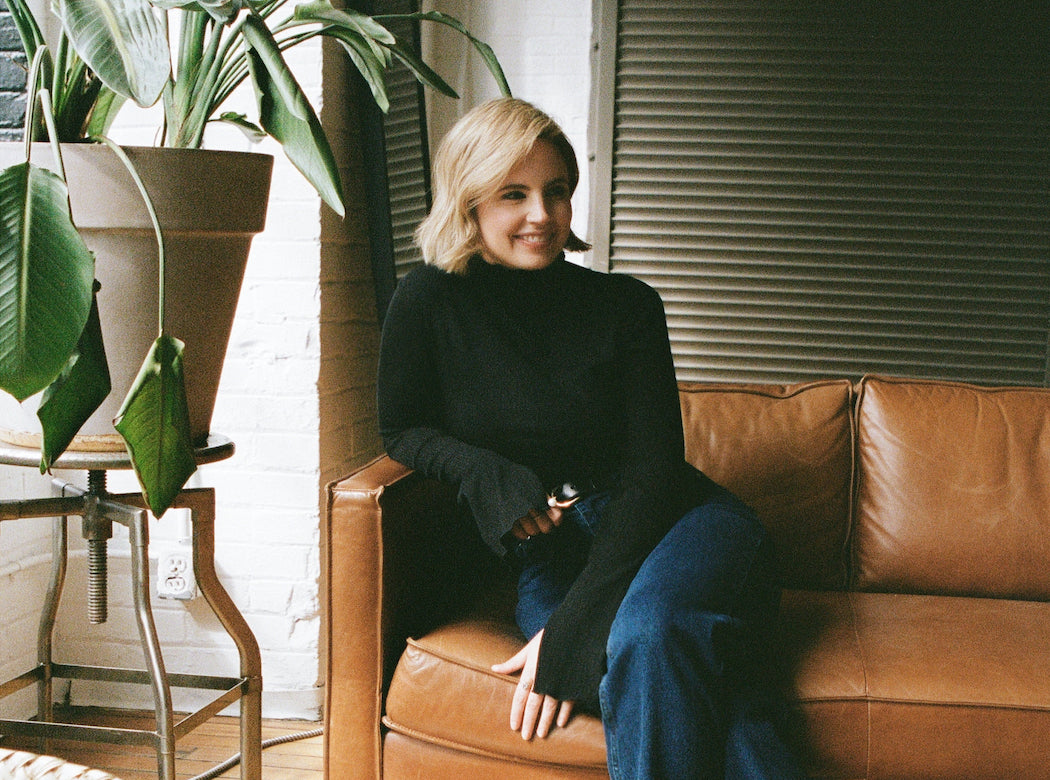 Wardrobe basics have never been out of style, but the pandemic put them into fashion in a whole new way. Stuck at home with nothing to do and nowhere to go, we relished in the things that brought us comfort—whether it was a soothing scent, a fresh loaf of homemade sourdough, or a perfect sweatsuit.
Toronto-based ethical clothing brand Kotn was already making said perfect sweatsuit, but a whole new swath of customers recognized its value in 2020. Since then, the company—which uses sustainable Egyptian cotton and provides living wages for its producers in Egypt—has expanded into bed linens and knits, taking this idea of simple, luxurious comfort to new areas of the home. Over video, and on the heels of a new brick-and-mortar opening in Vancouver's Mount Pleasant, cofounder Mackenize Yeates reflects on what has been an unpredictable, fulfilling, and whirlwind few years.
---
How have the last few years been for you?
It's definitely been a bit of a rollercoaster the past couple of years. Going into the pandemic, what did set us up for success was the fact that we were still a fairly small team. We were still being nimble and moving with changing timelines and pulling things off with small budgets, that kind of thing—so going into the pandemic, we really had to flex those muscles. And at the beginning of 2020, we had no idea what was going to happen; we canceled a bunch of our product that was supposed to come in that was more centered around going out and going to work. We were grasping at straws, a little bit, at the beginning, around what we could talk about, and we just really leaned into our community and our values. And I think that was what contributed to the growth that we saw that year—alongside the fact that everybody wanted nice sweatpants.
Then 2021 was definitely a little bit tougher, just with trying to figure out how to deal with delays in the supply chain and increases in raw material costs. A lot of things were changing or were delayed due to the pandemic. I also went on maternity leave, so there were a lot of things that were happening and changing in my life. But we managed to continue to add new categories and expand: in the period of the last couple years we added knitwear and home, which are both now top categories for us. So I think that's helped us take our brand to the next level and move beyond just being a t-shirt and sweatshirt company.
You've opened a new store in Vancouver. What was behind the decision to reinvest in physical retail?
We've been pursuing a strategy for new stores centered around more neighborhood locations where our customers live; we've seen a lot of success in Toronto's Trinity Bellwoods and Montreal's Mile End with targeting neighborhoods where our online customers are. So with Vancouver, that's why we decided to go to Main Street for this new store.
I think a big thing that drove our in-person expansion was the changes that we were seeing with marketing and the challenges with advertising on Facebook; there were challenges in terms of targeting that everyone faced last year, but also, we just didn't feel that spending money on ads was the most intimate way to acquire customers. And for us, discoverability through in-person stores is just so much more true to what we represent. There's kind of an "aha" moment with our product when you actually get to touch and feel it, because our true differentiator is the fabric. In-person lends really well to that.
In terms of the customer experience inside a Kotn store, what factors do you consider?
Different natural materials and things that you would find in a home, not just in a store, are a big component. We're also trying to get around 80 percent of the furniture that we're using in stores to be secondhand, either sourced from Facebook Marketplace or vintage stores. That's something that's important to us in the sustainability element.
I think at the end of the day, we have been trying to think about what fits into our customer's life and the rituals that our community partakes in. I don't think having some sort of splashy store in a mall or in a downtown core where there are big, theatrical events is really on brand for us. We want to be part of everyday moments in our customers' lives and their everyday rituals: when they wake up on Sunday morning and get a nice coffee and walk their dog and pop into a couple shops. So the store is designed around that, too: to make sure that it's a place where we can have smaller, intimate events. Right away when they walk in, we want people to feel comfortable and at home.
In your eyes, what makes a good leader?
I think what makes a good leader is not telling people exactly what to do, but inspiring them and making them understand the journey that we're on and what our end goals are. Alignment, communication, and making sure that we're talking to each other; being open and honest as a team; and giving good feedback are important. Inspiring people along the journey and providing direction without micromanaging, I would say, is what makes a good leader for me.
I think the other thing is listening to people. A big part of our brand is about the people behind it; how we set up our mission in general was not an arbitrary thing that we just decided—it came out of listening to the people within our supply chain and what they actually needed. And I think within our teams as well, it's about listening to ideas at all different levels of the company. Great ideas can come from anywhere. It's about giving people the opportunity to actually take something and run with it, and trusting people.
You're a new mom, as well, which must keep you busy. How do you fill your cup back up?
I think spending time with family and friends is what helps fill me up, and also gives me the feeling that I have support around me. One of the really hard things about being a new mom, especially post-pandemic, is that you live a very insular life. I'm doing a lot of mundane, everyday things at home, and I'm not going out a lot or seeing a lot of new things. There's a lot of very profound stuff that I observe through watching my child, but otherwise it is a challenge that I'm trying to figure out: how to be inspired, and how to be in touch with culture when I'm in this new phase of my life and am sort of redefining who I am as a person, too. So I think that's a big challenge; you don't get a lot of "me" time or self-care time, but for me it's just small things like going on a walk or having a bath. And then yeah, spending time with people I love.
What's that process been like so far for you to redefine yourself as a mother?
It's a journey. I definitely haven't figured it out yet. One of my friends who had a baby before me, I asked her: "How do you find time to do all the stuff?" And she was like, "It's kind of like Mario Kart where there are these extra energy points, and you just jump up and grab them." It's extra energy that you didn't know you had. When I'm at work, I have to be productive during the hours that I'm there; I think that's been great for me, forcing me into ultimate productivity. And then the times that I'm at home, I'm also more in the moment.
---
This interview has been edited and condensed for clarity.