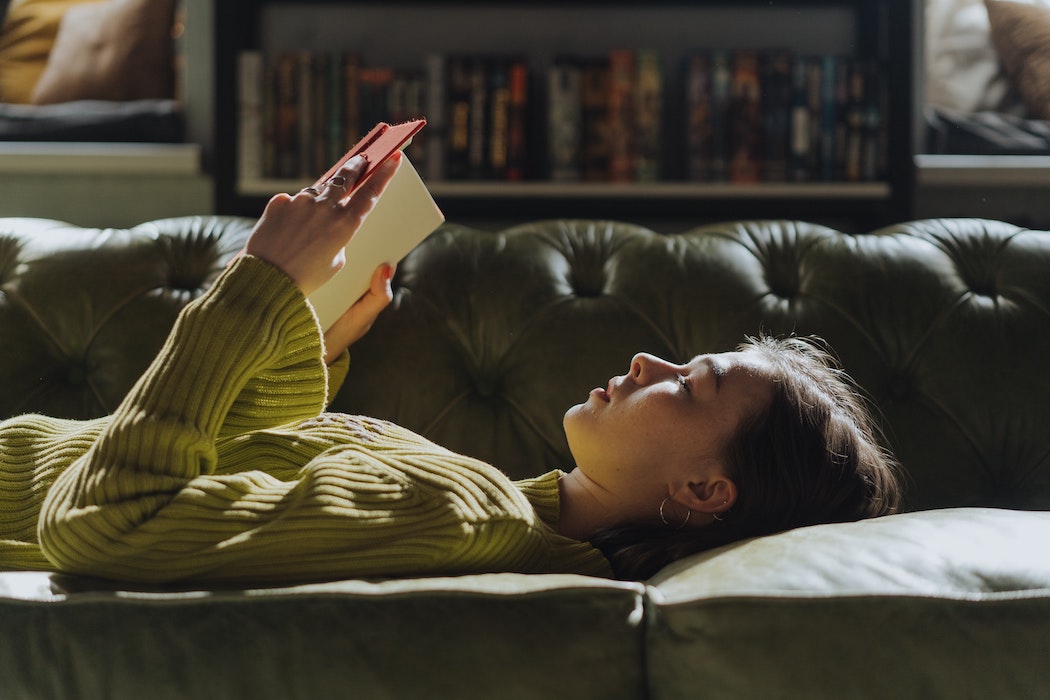 Reading may be a solitary activity, but it's what makes me feel closest to others. It provides me with the opportunity to spend time with a complete stranger and to learn what makes them tick. It also gives me something other than the news to talk about with my friends and family. There's no greater feeling than recommending a book to a friend that they end up absolutely loving—or even better, being recommended a book and realizing that the person who suggested it truly gets you.
These eight books all made me deeply feel something—whether it was joy, sadness, triumph, or gut-wrenching empathy. I've also paired each one with a vitruvi essential oil blend that best suits its vibe; atmosphere is a key component of any emotional literary journey, after all.
The Midnight Library by Matt Haig
This book made me cry so hard that my nose started to bleed. If you've ever questioned if even the smallest decision could have altered the trajectory of your life, this book is for you; it gives you 304 pages over which to ruminate all of your "what-ifs." Fans of the movie It's a Wonderful Life will appreciate this thoughtful examination of the little details that make our experiences worth having. I was left feeling reassured that my path is the right one, simply because it's mine.
The Midnight Library gets paired with the Sleep Blend, because this story felt like a lucid dream.
The Topeka School by Ben Lerner
This is the first book I read this year that absolutely blew me away. First of all, Lerner has a mastery of the English language that had me feeling simultaneously intimidated and enthralled. 
I spend a lot of time reading about toxic masculinity and male rage from a female perspective, so reading a book about men by a man was surprisingly refreshing. It made me feel quite hopeful for the future.
The Topeka School gets paired with something crisp and specific, like Grove Blend.
The Vanishing Half by Brit Bennett
I saw this book on everyone and their dog's Instagram Stories, so I needed to know what the hype was about. The nonlinear narrative spans generations and explores the concept of passing. I'm an only child, so I'm always fascinated by stories that broach complex family relationships, especially between siblings. This book made me feel tired because I was so enthralled that I read it in one night without sleeping.
The Vanishing Half gets paired with something floral and lush, like Quiet Blend. 
White Teeth by Zadie Smith
White Teeth is complete chaos. It employs an extensive cast of eccentric characters to explore London's complex cultural and racial mosaic. I laughed, I cried, and ultimately, I was blown away by Smith's literary brilliance. I love stories that seem as though their author is showing off a bit, and this definitely falls into that category.
White Teeth gets paired with Boost Blend because they are both lively and bright.
Memorial by Bryan Washington
This is a story about a young gay couple at a crossroads in their relationship. The author approaches the nuances of modern romance with dialogue that feels so very real. The awkward silences and unanswered questions made me feel like I was a fly on the wall in a kitchen in Houston, listening to two men struggle to say what they really mean. If Zadie Smith shows off her skills to us by doing the most, Bryan Washington does so by doing the least.
Memorial is quiet, confident, and funny. I'm pairing it with something warm and dry, like Dusk Blend.
Everything I Know About Love by Dolly Alderton
I grew up obsessed with Sex and the City, but it took me a long time to realize that Carrie Bradshaw kind of sucks. Dolly Alderton feels like a fresh voice in the wake of Carrie's antiquated musings on matters of the heart. Everything I Know About Love tackles the melodrama of being a woman in your twenties—and all of the discomfort, hilarity, and learnings that come with it. Alderton's reflections had me feeling simultaneously nostalgic for the past and grateful for where I am now. Above all, these essays are a celebration of friendship; they made me want to pick up the phone and call a girlfriend.
This book feels like a hug from your bestie. It's cozy and optimistic, like Golden Blend.
The Sympathizer by Viet Thanh Nguyen
The Sympathizer is a funny, biting examination of race, identity, and America. The story is written in the form of a forced confession from an unnamed narrator: a half-French, half-Vietnamese spy. It's basically as if Apocalypse Now was depicted by the other side. It was mysterious, exciting, and unlike any other book I've read—it made me feel nervous and uncomfortable in the best way possible. I was on the edge of my seat. 
Much of this book takes place in dark, smoky rooms with a glass of whiskey in hand, so it only makes sense to pair it with citrusy and spicy Nightcap Blend.
Open Book by Jessica Simpson
I came for the pop star gossip, but I stayed for Jessica Simpson's tenacity and wisdom. I never considered myself a huge fan, so I really didn't know much about her. She's endured abuse, addiction, heartbreaking loss, and some seriously toxic emails from John Mayer. Despite all this, she is so kind. I felt enormous empathy toward her, along with immense respect for the empire that she's built. I could talk about this book for hours. Go read it, or do what I did and listen to the audiobook.
Simpson's warm and inviting home plays a central role in her memoir, so I'm pairing it with Retreat Blend, which is lush and restorative.
If you need me, I'll be at home with my nose in a book and my emotions at the mercy of the author's words.
---
This article appears in Natural Habitat Print Issue No. 1. Order your copy here.