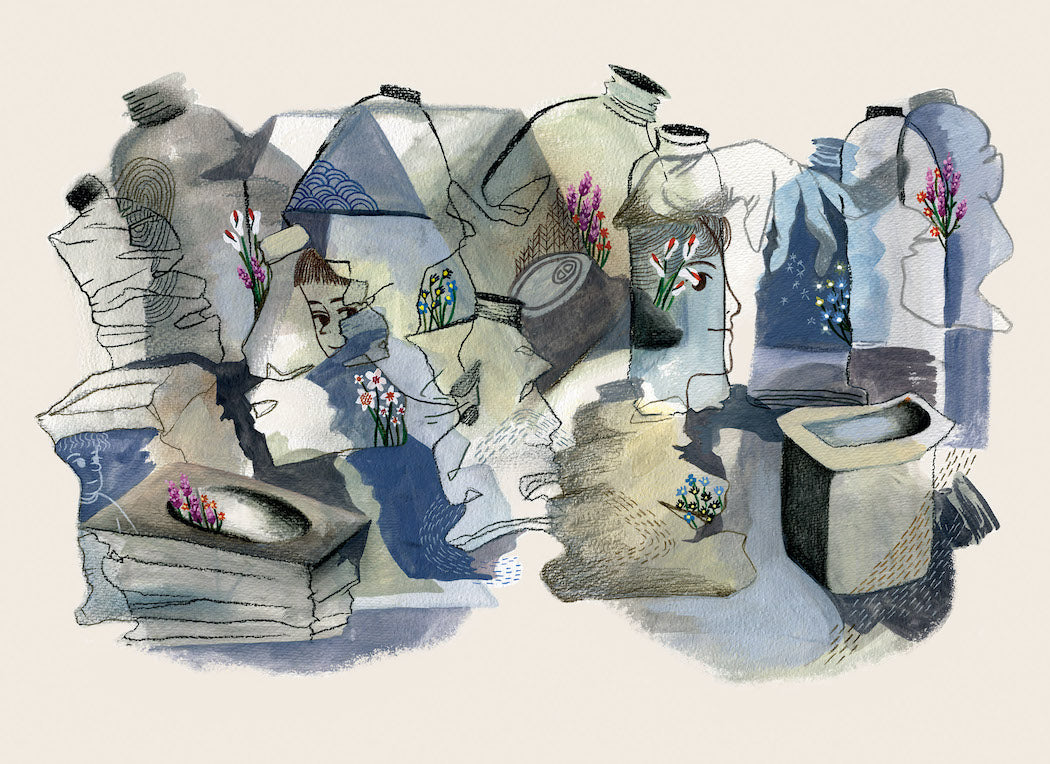 In my childhood home, as summer shifted into autumn, the single-pane windows would fog and glisten with Kenyan-spice-infused condensation at precisely 6 p.m. I'd sit and do my homework at the dining room table and stare at the makeshift spice jars as they sat patiently, waiting to be chosen by my mother—who was always cooking up something fragrant. Some of these jars were old containers that had been given new lives with new contents: pasta sauce jars that now housed cinnamon sticks and cloves, or jam jars masquerading as garam masala holders. From age six, I knew the difference between a jar with good bones and the potential for repurposing, and a jar that would perhaps be a better fit for the recycling bin.
Today, a family with an affectation for reusable glassware would be exemplary for the sustainability movement; for us, though, our eclectic cupboard of spice jars was simply constructed out of the frugal nature of my mother. I always felt that the quirky ways my family saved money (and, as a result, helped the environment) were unique to us, but in reality many households operate this way—including those that raised Kamala Harris and Mindy Kaling. In a home-cooking video featuring the United States Democratic vice-presidential nominee and the actor-comedian, the pair bond over their parents' similar makeshift spice jar system; they even reused containers from the same coffee brand.
Though the bold wave of sustainability may appear to be fresh and new, it doesn't take much digging to realize that people and cultures around the world have been making mindful eco moves for quite some time. On the outside, the zero-waste movement is often paired with a consumer-heavy narrative that encourages us to buy a vast array of genius low-waste products—perhaps countering one of the movement's main principle of purchasing less. Reusable straws and wax food wraps aside, with a little creativity and a little inspiration from our communities, we can adopt zero-waste habits with what we already have kicking around the house.
Sustainability doesn't have to look like a picture-perfect Instagram post or don the logo of a trendy eco brand. Here, we speak to a handful of Vancouverites who all take different approaches to the zero-waste mentality.
Iman Hassan, 22: "I had never thought to consider how my mom would always wash and reuse Ziploc bags as her being 'low-waste,' and was simply embarrassed by how cheap I thought she was being at the time (sorry, mom!)," Hassan recalls. "But lo and behold, I do the very same thing in my own home as an adult today. Moms really do know best."
Asel Soltanbekova, 27: "I was born in the early nineties in Kazakhstan. I remember my parents would tell me how hard it was to shop during the time (the collapse of the Soviet Union). Stores were empty, and there was barely enough food for a couple of days—that's why we had to grocery shop every couple of days," Soltanbekova recalls. "[Our grocery list] would look like this: three to six eggs, one big apple, one loaf of bread, a couple of potatoes, and some kind of protein if we were lucky." Soltanbekova distinctly remembers grocery stores being plastic-free, with food being wrapped in newspapers, and having to wait in line with a bedon (a metal milk jar) to receive milk from a dispensing truck. Though the low-waste practices of her childhood were born out of necessity, Soltanbekova and her family have carried this mindset with them to Canada. "You can find a toothbrush that is probably my age that was used as a toothbrush," she says, "then a stove cleaner; then a shoe cleaner; and then, when there were no bristles left, [the same brush was turned into] a plant support."
Leonel Franco, 27: "Diapers are my life right now," Franco, a new dad, says with a laugh. "For the first five days after our baby was born, we used disposable diapers for multiple reasons, and the waste was just horrifying. Even though we used organic, unscented diapers, it was too much for me to witness. In came cloth diapers, sent to us from our friend who is done using them for her little ones. The transition is flawless and much more satisfying for everyone involved. Best of all, the waste has dramatically decreased."
Laura Harvey, 28: "A typical Asian mom thing, but my mom would keep every single-use plastic bag and reuse them until they fell apart," says Harvey, who grew up in the UK. "My mom would never let any food go to waste. She grew up very poor, and meat was a privilege, so whenever she bought meat, everything had to be used. If we left any food on our plate, she would save it, and any uneaten meat she would wash and feed to the street cats. I guess it's taught me portion control, never to get tempted by supermarkets' 'buy one, get one free' [promotions], and to just buy what you need." Inspired by this no-waste spirit, instead of throwing out old socks that have holes in them, today Harvey keeps them to use as cleaning rags.
Margo Anderson, 33: "I've started turning my old candle holders into planters," says Anderson. "When a candle has burned down to the bottom, I put the container (ceramic, glass, metal, or otherwise) into a pot of boiling water to get the remaining wax out, and that's it. Once it's empty, I put a plant in it and it becomes a unique planter." Anderson stresses that planters can really be made out of anything.
Maddy Crystal, 32: "I grew up in Winnipeg, which is notoriously one of the coldest places in the world. Ironically, my home always felt cozy," recalls Crystal. "I equate this to the way music would pour out of the stereo on what felt like endless weekends, or when my mother would microwave my undergarments before I braved the snow. One of my fondest memories is that my mother always made homemade laundry soap (instead of purchasing it in jugs), which smelled like lavender and salt. It would linger to my clothes. I can still smell it now."
Our cultures' and parents' environmentally-friendly ways may have been sources of embarrassment or misunderstanding for many of us as kids, but with the modern sustainability movement as our vehicle, we can take what we've learned and adapt it to fit our lives (and budgets) today.