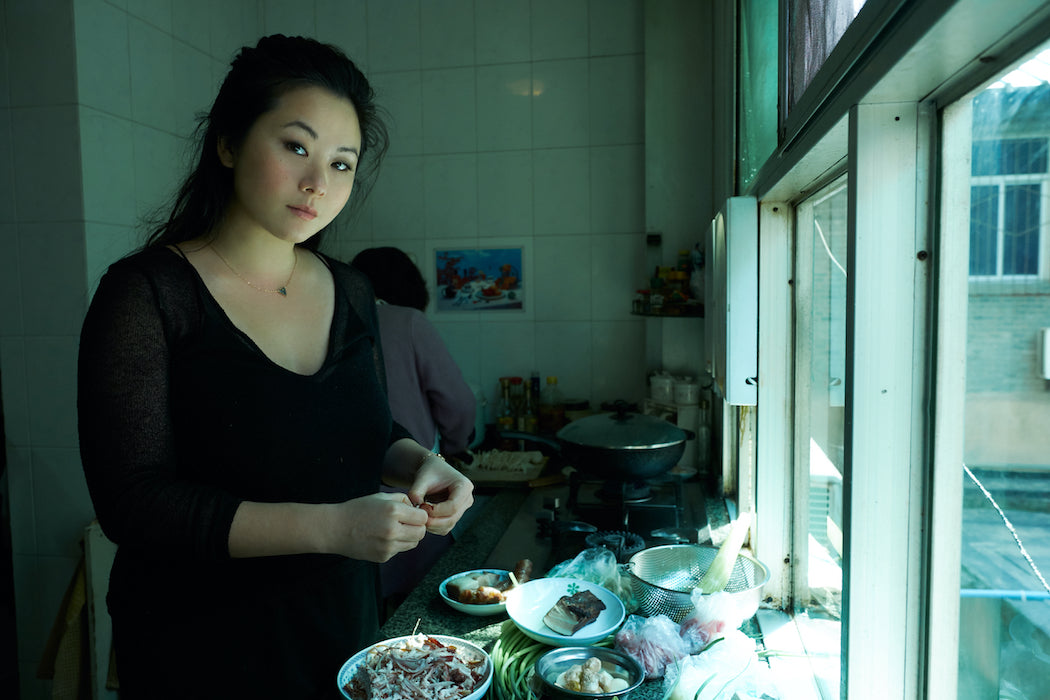 For those of us not enmeshed in the world of gastronomy, talking about flavors can feel intimidating—sometimes contrived, and even tedious. Jing Gao makes it approachable. With Fly By Jing, her wildly popular line of artisanal pantry staples, Gao offers people access to the vibrant street food culture of her native Sichuan.
"You could see their eyes pop and they'd be like, 'What is this? I've never heard of it,' or, 'I've never had it,'" Gao says of the diners who flocked to the pop-up meals she's cooked around the globe. "And it's because they didn't have access to those things."
Those things are the base layers of the seasonings she has long weaved into her food. Deeply personal and hugely complex, every dish of Gao's evokes an experience that awakens something within. It's akin to reading a novel that feels as though it were written solely for you.
That Gao offers this experience to all of us through her Fly By Jing products is an act of inclusion, erasing the invisible lines that divide different cultures. Of the collection—which consists of Sichuan Chili Crisp, a tingling, good-on-everything must-have; Zhong Sauce, a sweet umami dip inspired by Zhong dumplings; and Mala Spice Mix, a blend of 11 herbs and spices that feels as layered as it tastes—Gao wants people to "just try something new" and explore. "There are no rules around how to use our products," she asserts.
Gao's ability to make people feel included might be easy to dismiss as an outcome of her innate warmth or her experience working in the service industry, but it was more so calibrated from her peripatetic history—and her recent self-evolution. To fully understand both, we have to go back to Chengdu, where Gao was born. It was there, in the capital of China's Sichuan region, that she remembers her first experiences with "truly delicious flavors." She and her family would go to the "fly" restaurants the region is known for; hard-to-find, tiny, "the dingier-the-better" spots (which attract people like flies), these restaurants lack ambiance, but overflow with tastes and sounds and warmth. Says Gao via video: "It's such a magical dining experience."
Fly restaurants were a mainstay in Gao's youth. Since she was very little, she and her family "moved around a lot, pretty much every year," because of her father's vocation as a professor. Germany, England, Austria, France, Italy—Gao found herself living all over and having to get acquainted with new cultures until her high school years, when her family stayed put in Canada. Through all the moves, they'd visit their family back in China several times a year and would always go to eat at the local fly restaurants.
After high school, Gao studied business in Canada and started working in investment banking and brand management. Around 2010, a job with Blackberry brought her back to Asia, where she lived in Beijing and Singapore, before changing companies and moving to Shanghai. It was all intense and exciting. And given how she had lived in more countries than most people visit in a lifetime, one might think it was easy for her. But a crisis of identity was beginning to reveal itself. "When I was in China," she reflects, "it was the first time I had realized how disconnected I had become from my heritage."
All the moving and getting "thrown into culture and languages" had left Gao grasping for answers about herself. She went by the name Jenny from an early age, which she says was a convenient thing to hide behind. "I was code-switching so much, and adapting to what I thought people expected of me, that I really lost sight of who I was," she says. "And being in China, it's not like I fit in there automatically—because I may look like everybody else, but I'm not like everybody else. So what is that identity?"
To answer that question, Gao started "digging really deep into the food culture." It was work that brought her to Asia, she says, but it was the food—big bowls of Dan Dan noodles, the Zhong dumplings of her hometown, the narratives found in layered flavors—that kept her there. So she jettisoned her corporate role and dived into gastronomy.
The next decade proved one of many layers for Gao. She founded an award-winning restaurant, Baoism (now closed), in Shanghai. She started cooking and hosting those aforementioned pop-up dinners, which she aptly named Fly By Jing as "an ode to the fly restaurants." She started a blog about her culinary expeditions, educating her readers about the regional cuisines of China, and specifically the flavor complexities of Chengdu. Food giants by the likes of Andrew Zimmern and Emeril tapped Gao for her insight, while publications including the Travel Channel, Vice, and New York Magazine featured her story and writing.
Meanwhile, the appetite for Gao's flavors was continuing to grow. She had started putting her spice mixes and sauces into jars to give to friends, and eventually began selling them Shanghai and online. But in 2018, a visit to Expo West—the giant wellness and culinary networking event in California—got her "thinking seriously" about scaling the business. Soon after, Fly By Jing pantry staples were in the States, and so was Gao.
If one were to take a macro look at Gao's last decade, it would read all successes and wins. And rightfully so: people fell in love with her restaurant, dinners, and Fly By Jing collection. "You need this," wrote Saveur about the Sichuan Chili Crisp. But amidst the positivity was resistance. "I can't tell you how many times I've been told 'no' by investors and people who just discount the potential of Chinese food," says Gao. "It felt like a constant justification of our right to exist and to have a voice." In mid-2020, Gao resisted. She reclaimed her given first name of Jing, releasing the westernized facade of Jenny that she had been living behind.
Since her name acceptance, Gao has also helped Fly By Jing embrace its roots, taking on a rebrand and owning its identity as an evolved, inclusive celebration of Sichuan cuisine. In doing so, Gao says she feels a perceptible shift. There's a deeper resonance and connection with their community, and "a power to that conviction in ourselves that we are not looking for approval from a white gaze." For too long, she was afraid to tell her own story; now she realizes that owning her truth is "actually helping others do the same."
Fly by Jing items have many functions—dinnertime staple, flavor enhancer, mood booster—but they're also instruments for a sense of wonder and discovery, for really seeing ourselves. "What we really hope is that people, through the exposure to new flavors and new possibilities, can break down some of these barriers that might exist between people and cultures," says Gao. Like sounds or gestures, food is a way to tell our stories.